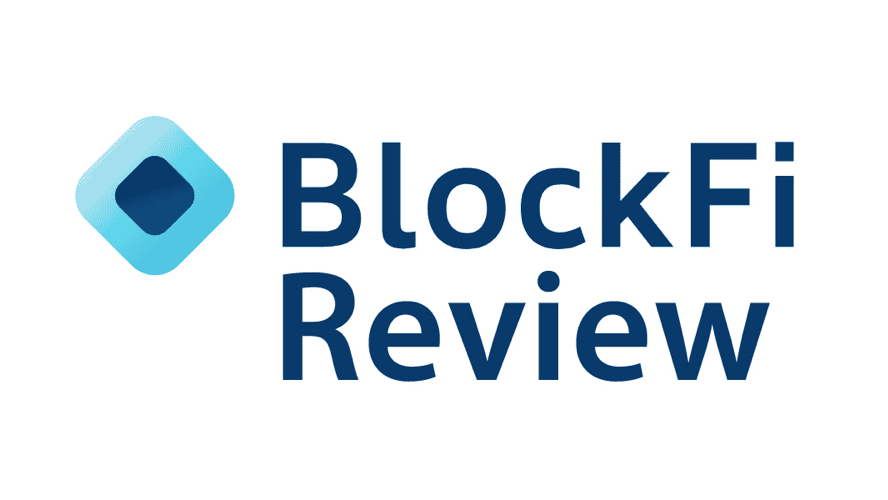 What is BlockFi?
Blockchain technology has the potential to revolutionize the finance and banking industries. Many people recognize the power of cryptocurrency, not only as an investment holding but also for a new way of doing business. With the cryptocurrency economy comes an interest in financial services that have in the past mostly been fulfilled through traditional fiat banks. BlockFi provides something different: Interest-bearing accounts for holders' cryptocurrencies and loans that are easily converted to fiat currencies.
The company offers intriguing interest rates and allows cryptocurrency holders to earn interest, rather than simply leaving their crypto assets in storage while they consider how to use them. This BlockFi review will take a look at the services offered by the company and how they can be of use to cryptocurrency holders.
BlockFi offers loans, transferred in USD to borrowers' banks, with flexible repayment plans, focusing on people who need short-term cash but don't want to cash in their crypto assets. The company deals with Bitcoin (BTC), Ethereum (ETH), Litecoin (LTC), USD Coin and GUSD.
BlockFi Interest Account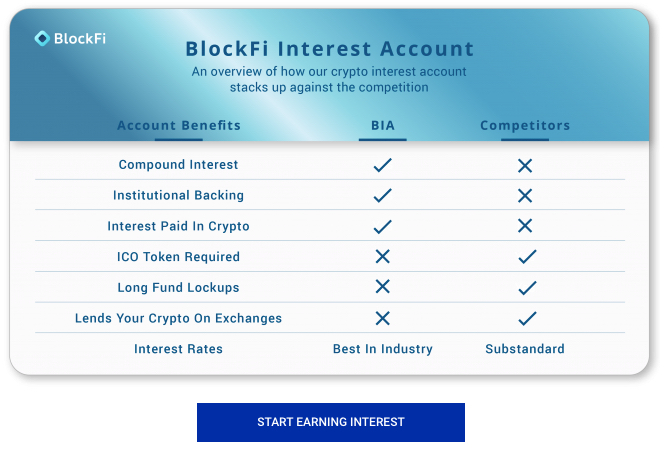 BlockFi is about more than just lending. Many cryptocurrency holders leave their assets in a wallet for a long period of time, waiting for the value of their coins to grow. A BlockFi Interest Account offers some of the benefits of a traditional banking or savings account in a crypto-friendly environment. Clients can earn compound interest on their crypto balances over time. While rates vary based on the amount held and the type of currency, account holders can earn up to 8.6% in interest annually.
Interest is paid out in cryptocurrency. Account holders can receive their interest payments in a different form of cryptocurrency than the primary one in their BlockFi Interest Account, allowing them to diversify their holdings through interest payments alone.
You do not need a minimum balance to start an account and earn interest. BlockFi reviews note that account holdings are used only in institutional, low-risk loans. For this BlockFi review, we also note that the firm states that it prioritizes client funds above company equity, meaning that account holders and the company have mutual interests in protecting themselves from unwise loan decisions.
BlockFi Crypto Backed Loan Account
This company also offers a range of collateral-backed crypto loan accounts. If you deposit your coins with the platform, you can receive a loan in USD transferred directly to your bank account. You can borrow up to 50% of the assets that you deposit with BlockFi lending, and your interest rate begins at about 4.5%, with a 12-month repayment period. There are options to both prepay or refinance a loan at the end of the term.
Who Can Take Out a Loan on BlockFi?
There are no credit checks associated with BlockFi lending because all of the company's loans are based on collateralized crypto deposits. Applying for a loan does not affect your credit score as your credit is not pulled. You will need to sign up at the company's website, enter the amount you want to borrow, the type and amount of crypto you want to deposit and identify yourself. Residents or citizens of sanctioned or watchlisted companies may be excluded, so you will be asked to enter personal data for KYC (Know Your Customer) regulatory purposes. This can include financial information and your Social Security Number.
The Loan Eligibility Criteria
While BlockFi lending does not require a credit pull, the company does have requirements for loan eligibility. Borrowers must hold at least $15,000 in cryptocurrency assets, have no liens currently pending against their assets and no bankruptcies on file.
How the Loan Process Works
Get started with BlockFi lending with a few simple steps:
Create an account with the company.
Select the Loan page, then click Apply to complete the application.
You will receive a decision quickly: In most cases, this takes only a few hours, but you can definitely expect to know in 24 hours or less.
Sign your loan agreement electronically, then transfer your crypto collateral to the company's secure wallet.
The lender will transfer your USD loan to your bank account or a stablecoin loan to a crypto wallet.
Each month, you will make payments for the interest only on the loan using one of your cryptocurrencies or USD.
At the end of the one-year period, you can pay off the principal in a lump sum using crypto or USD, or you can refinance the loan.
We must note in this Blockfi review that, as with other collateral-backed loans, the company can seize your collateral if you fail to repay the loan. Since you will be required to pay off the loan in one payment at the end, it is important to structure your savings and repayment plan to accommodate this.
How Does BlockFi Work?
Individuals can open an account with the company and deposit crypto assets in order to earn interest. They can also be used as collateral to obtain a loan valued in USD, allowing people to get a cash infusion without liquidating their crypto holdings or dealing with capital gains taxes. The company itself makes money through interest payments and origination fees from loan borrowers as well as its own investments.
For this BlockFi review, it is important to remember that loans are paid out in USD and must be paid back in USD. Crypto holdings can be volatile, and the value of the loan will not change, even if the value of the crypto holdings you deposited has changed over time.
BlockFi Credit Card
BlockFi's founder, Zac Prince, announced that the company plans to launch its BlockFi credit card in 2020, opening another new space between traditional banking and blockchain financial firms. While there are debit cards available that are linked to crypto accounts, the Blockfi credit card aims to fill a unique niche in the market. It will be a rewards credit card similar to travel or cashback cards; instead of these rewards, however, you will receive Bitcoin as a reward when you spend with the BlockFi credit card.
Is BlockFi Insured?
When reading a BlockFi review, you may want to know if your assets are insured and safe with the company. A BlockFi Interest Account is not an FDIC-insured savings account or an SIPC-insured brokerage.
Safety and security concerns are important in a BlockFi review. Gemini, which the company uses to store crypto assets, is a licensed exchange by the New York State Department of Financial Services and operates as a fiduciary under banking law. This means that it must follow strict requirements for compliance and capital reserves. The company has digital asset insurance and is known for industry-leading security.
Can I earn interest on Bitcoin?
A BlockFi Interest Account provides you with a way to earn interest on your Bitcoin. You don't just have to leave it in an exchange and wait for the price to appreciate or determine when to sell off your assets. The account helps your cryptocurrency to work for you, and after the firm eliminated minimum requirements on the account, it can be a good choice for even small holders of crypto assets. It is important to note that this is essentially an investment or long-term savings account rather than intended for use as a rotating wallet. While you can take one free withdrawal per month, small withdrawals can take longer times to process.
What is Bitcoin loan?
BlockFi lets you borrow in USD while using your Bitcoin or other crypto assets as collateral. You might need cash for a venture or a purchase, but you don't want to cash out your Bitcoin. This company can quickly wire you USD while holding on to your crypto as collateral to ensure the loan is paid back. The loan is valued in USD, but you can make your payments for interest and principal in BTC or ETH. You can repay the loan early or refinance it at the end of a year of interest-only payments.
Pros and Cons of BlockFi
Any BlockFi review needs to take a look at the pros and cons of this innovative financial services company in the crypto space. There are some serious positives to these services but also some points to keep in mind.
Some of the pros include the following:
It's obvious: You can earn compound interest on crypto deposits and make your money work for you, boosting passive income.
Access USD liquidity without the tax and opportunity costs of cashing out your crypto holdings.
Take a significant loan without a credit inquiry, eligible for tax benefits.
Use some innovative products that boost your BTC holdings, including the new rewards credit card.
No minimums to start earning interest on your crypto
No penalties for early withdrawals and access to a free withdrawal each month.
Support for several large coins, including BTC, ETH, LTC and USDC.
On the other hand, a BlockFi review also needs to discuss the cons, including:
Traditional bank-like structure: Like fiat currency banks, BlockFi is centralized, has limited operating hours and operates on marginal lending. This level of centralization is a negative for many crypto owners.
Interest rates and tiers are not fixed. As noted in the terms and conditions, the company reserves the right to change the rates you receive, and they can go down as well as up.
There are withdrawal fees for more than one withdrawal a month, and small withdrawals can be delayed.
Final Thoughts on BlockFi
To conclude this BlockFi review, these services are innovative, useful and helpful for several groups of people with a serious interest in cryptocurrency holding and investing. If you have major holdings sitting in a wallet, you may not be making the most of your money. These accounts can allow you to earn a passive income stream from simply holding, rather than trading, crypto, an appealing concept that actually works, as demonstrated by the many satisfied customers of the company.
Crypto-backed loans also fulfill a real market space for people who need access to cash but want to keep their crypto assets. The company offers a high level of regulatory compliance and transparency; while nothing other than personal control of your crypto offers complete security, BlockFi is backed by reliable firms with a secure track record. These services are tailored for people with experience in crypto and risk tolerance, but newer crypto holders can also dip in their toes, as there are no minimums required to start earning interest. Check out what BlockFi has to offer to learn more.