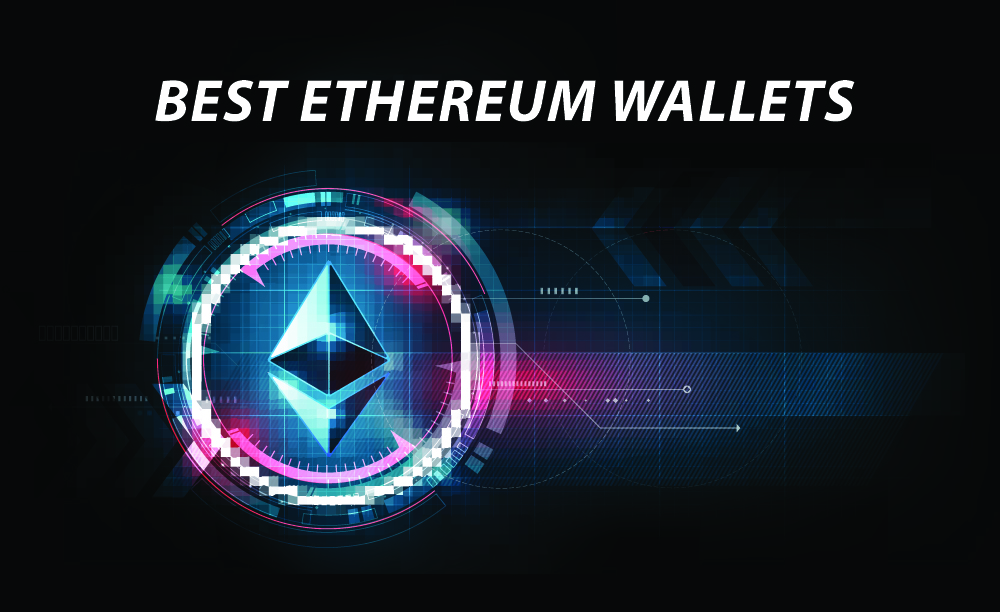 What is an Ethereum Wallet?
Ethereum is one of the most popular and fastest growing cryptocurrencies, with the second largest market cap following Bitcoin. This means that an increasing number of investors are looking to expand their Ethereum holdings. As more people hold and use Ethereum, the more important it becomes for users to access and store their Ether with a secure, reliable Ethereum wallet.
With an Ethereum wallet, you can hold, send or receive the Ether cryptocurrency as well as tokens such as ERC20 tokens. Some smart wallets also allow you to write smart contracts. This type of full node Ether wallet provides more advanced features that may be best suited for advanced users who are more familiar with the Etherum network.
Wha
How to Choose an Ethereum Wallet
There are a number of features to keep in mind when selecting the Ether wallet that is best suited for your needs. Of course, when holding cryptocurrency, security is one of the most critical factors in selecting the best Ether wallet. Some people may prefer an Ethereum hardware wallet, which allows you to store your cryptocurrency on a physical device, while others may prefer software-based options such as desktop or mobile wallets.
Private keys are a central part of any Ethereum wallet, where you control access to your Ether holdings. In addition, you may want to choose an Ethereum wallet that is well-engineered for ease of use. Because you want to make sure that the wallet remains secure over time, a choice with an active development community working to improve the software as well as good backup features may be the best choice. In addition, you may want to make sure that the Ether wallet you choose is compatible with the right operating system for your computer, phone and other hardware.
Why You Need to Move Ether OFF your Exchange!
An Ether wallet is so important because you will want to make sure you move your Ethereum off of the exchange where you purchased it. You can obtain Ether currency on a number of secure, strong exchanges, but you'll want to move your cryptocurrency to a wallet as quickly as possible. Once you've withdrawn Ethereum to the best Ether wallet, you're much more securely protected against hackers or other issues with the exchange itself.
There have been a number of widely publicized incidents involving thefts of cryptocurrency from exchanges of various sizes. In general, exchanges are not insured, and theft losses are passed on to users of the site. By withdrawing your Ether to a wallet, you are better protected against this kind of theft. Most of these wallets support Ether (ETH) and all other ERC20 tokens and coins.

The Ledger Nano X is the newest Ethereum hardware wallet from Ledger. A hardware device that operates from a USB stick, it advertises a high level of ease of use. It can be set up from any computer and also has an app that allows it to be managed by your mobile device. The wallet offers step-by-step setup instructions, including a range of security options. It can be paired with your phone using Bluetooth. Like the previous model, this device stores your Ether offline and signs in using your private key in order to make transactions.
In addition to serving as an Ether wallet, the Ledger Nano X supports a range of cryptocurrencies. You can store Bitcoin, Bitcoin Cash, Litecoin, Dogecoin and a number of other options using the wallet. The company has been making hardware cryptocurrency wallets since 2014 and has a strong reputation for security as well as creating choices that help beginners store their currencies.
The Ledger wallet runs a dedicated companion applications to allow you to securely manage your cryptocurrency accounts. While new apps are added as more cryptocurrencies emerge, at this moment, the Ledger wallets works with: Bitcoin, Ethereum, Litecoin, Fide U2F, DogeCoin, ZCash, Dash, Stratis, SSH, GPG, Ripple, Hello, Bitcoin Cash, Komodo, and Ethereum Classic.
You can also use other compatible software wallets, including Copay, Electrum, Mycelium, MyEtherWallet, GreenBits, Bitgo.
Benefits of the Nano X
Security – The Nano S protects your device from hackers, malware, and other threats
Portability – The device is about the size of a standard USB flash drive
Versatility – House multiple cryptocurrencies on the same device
Compatibility – The Nano X works with Windows, Mac OS, Chrome OS, and Linux operating systems
Safely authenticate all transactions via physical verification on your Nano X
Affordability – The Nano X is more affordable than other wallets, and is a small price to pay for security and ease of use
This device costs $119.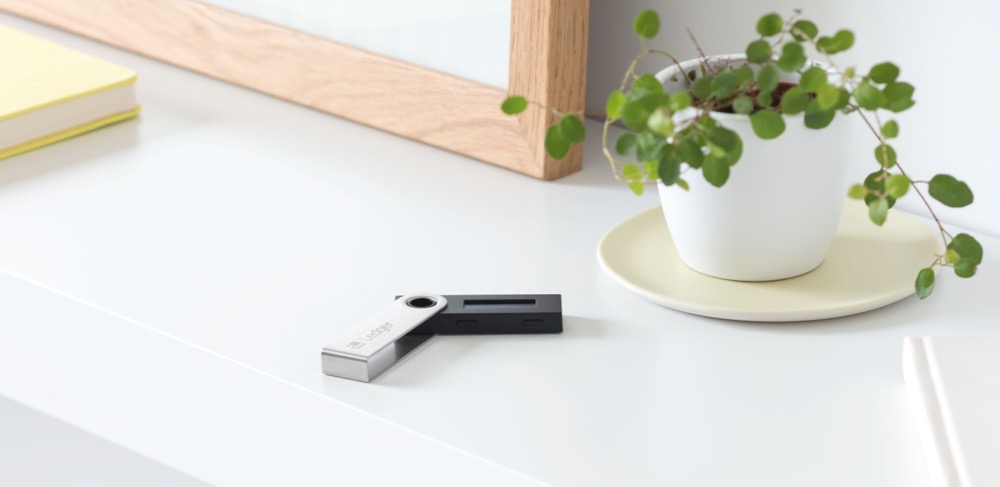 The Ledger Nano S remains a strong, viable option as an Ethereum hardware wallet. With a smaller screen than the X, the device still lets you see and control your transactions visually on the device itself. The manufacturer boasts that it is so secure that it can even be used on a hacked computer without compromising the security of your cryptocurrency holdings.
This is one of the most popular ETH and ETC hardware wallets on the market and integrates easily with MyEtherWallet for ease of use. With an affordable price of $65, this could be the best Ether wallet for entry-level users.
State of the art technology: The Ledger Nano S uses state-of-the-art security to isolate sensitive operations inside of your hardware wallet. Confidential information and other secrets are never exposed, keeping them safe from potential malicious forces.
Direct storage on the device: Private keys are locked inside the device's secure element, so they are never shared with Ledger or any third party, keeping them safe from hacking. Configuration, restoration, and initialization of your device are also done on the secure environment, to ensure that your assets are protected from malware.
Pin Code and physical verification: By requiring a four-digit PIN code each time the device is connected to a computer, and physical verification for each transaction via a button located on the side of the device, the Nano S ensures your transactions cannot be tampered with, empowering you to confidently be your own bank.
Restoration to compatible wallets: In the event that you lose access to your account, the Ledger Nano S features easy restoration on compatible wallets or any other Ledger device and accounts are backed up to a recovery sheet.
The Trezor Model T is the second-generation Ethereum hardware wallet, manufactured by SatoshiLabs. The original Trezor wallet, the Trezor One, launched in 2014 and has become a widely used solution to store cryptocurrency offline.
The device uses a color touchscreen rather than physical buttons for control. It has highly secure software that its manufacturer says can be safely used even on devices loaded with malware or otherwise compromised. You control the private keys for this wallet, and its contents can be backed up using a special 12-word recovery seed, generated randomly and displayed and saved on the device's screen to ensure that it never enters a device connected to the internet. In order to spend or use your Ethereum, a PIN is required. The Model T aims to provide the best Ether wallet experience and costs around $165.
The Trezor One remains a highly popular and secure option to store your cryptocurrency offline. This was the first Bitcoin hardware wallet, but it also supports Ethereum through the use of the MyEtherWallet web interface.
The device uses physical buttons and a smaller, monochrome screen to control usage and monitor your assets. It stores your Ether in a secure chip and can be used to send and receive as well as store your cryptocurrencies. At $99, the Trezor One is an affordable Ethereum hardware wallet option for people looking for the best wallet for Ethereum cold storage.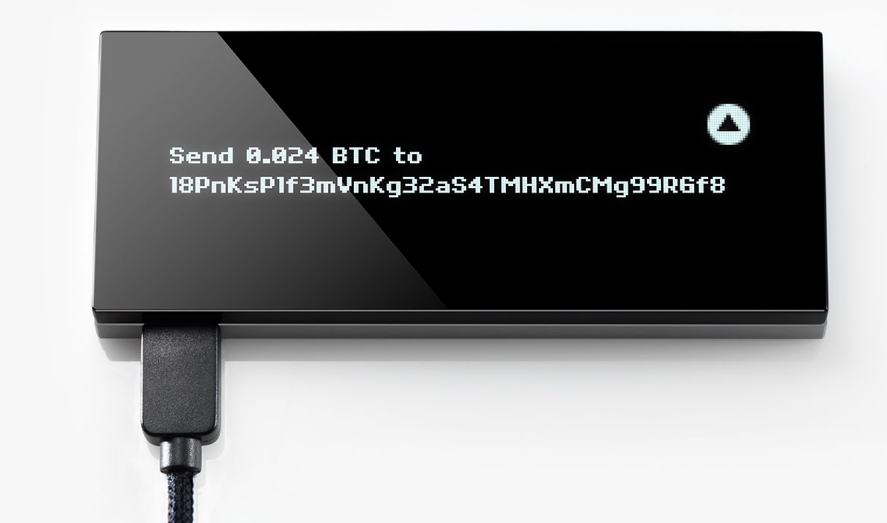 This secure Ethereum hardware wallet has a plastic body and a larger screen. Like the other hardware Ether wallets, it also stores your currency in a secure environment offline and offers similar features to the Trezor One and Ledger Model S. It also ensures that your currency is never stored on an internet-connected device for maximum security. KeepKey costs around $120. Like other hardware wallets, it is important to purchase directly from the manufacturer in order to protect your security.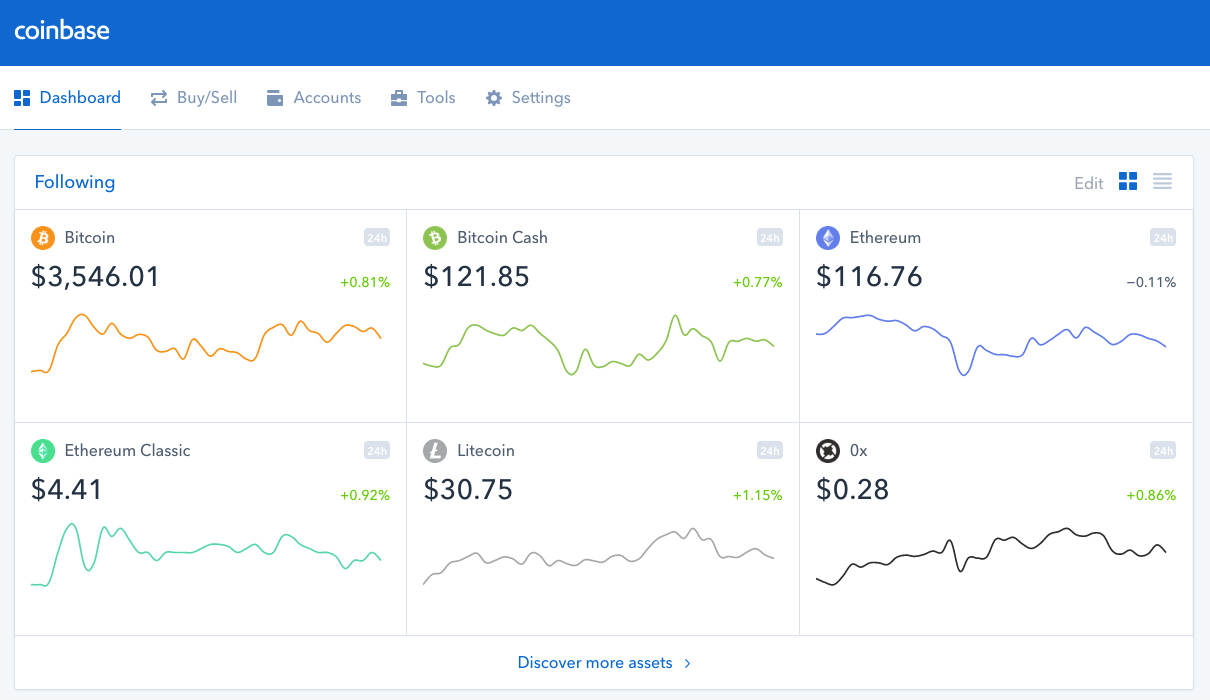 Coinbase is a web-based wallet that has been widely used to store Bitcoin; however, with the popularity of Ethereum, the company has added Ether storage and support as well. However, Coinbase is available in a limited selection of countries. If your country is supported by Coinbase, it can be an affordable, simple option for online storage of your Ether.
After you register at Coinbase, you will receive a public address. You can transfer your Ethereum using this address and store your currency there. However, the private keys for the wallet are stored on the Coinbase servers, so they are not within your control. This means that it may not be the best Ethereum wallet for a long-term solution, but it can be a good choice for short-term storage online.
MyEtherWallet
Perhaps the most widely used Ethereum wallet on the web, it works like an account on other websites, much like Coinbase. You can log in and access your currency on any device using a traditional username and password. You do control your Ethereum private key from your own machine rather than it living on the MyEtherWallet servers.
You can use this option to write and access smart contracts, and you can access your funds here through hardware wallets, like the Ledger and Trezor options. MyEtherWallet offers a high level of privacy, with no personal information or registration required. At the same time, like all web wallets, MyEtherWallet is less secure than hardware options. The site itself could be vulnerable to hackers or malware, while users may fall victim to phishing attempts. A hardware or desktop wallet is more likely to be the best Ethereum wallet for long-term security and stability.
Atomic
This desktop wallet offers a software program that is available to install on your own computer. You can also buy ETH with a bank card using this software. The company has also announced plans for Atomic Swaps, a mechanism that would allow people to exchange Ether with one another on a decentralized system. You can also use an instant exchange function with Changelly and Shapeshift.
The software can be used for more than just your Ethereum holdings, as you can store over 300 cryptocurrencies. Its interface can be used for all ERC20 tokens as well. Your device encrypts and holds your private keys, giving you full control over your funds.
Jaxx
Jaxx is a popular cryptocurrency software wallet. Unlike some options, it is not a fully open-source project, although the developers aim to provide the best wallet for Ethereum. However, the developers do make the source code available on their website. The wallet is produced by a Canadian company called Decentral, and there is an active discussion and development community around the product.
Like Atomic, when you create a wallet with Jaxx, you remain in control of your own private keys which never leave your personal device. It allows you to store Ether and 12 more cryptocurrencies and offers a range of security functions, including seed keys that can be used to restore your wallet. It offers support for smart contracts and a high level of privacy, as it does not require personal information or registration.
Exodus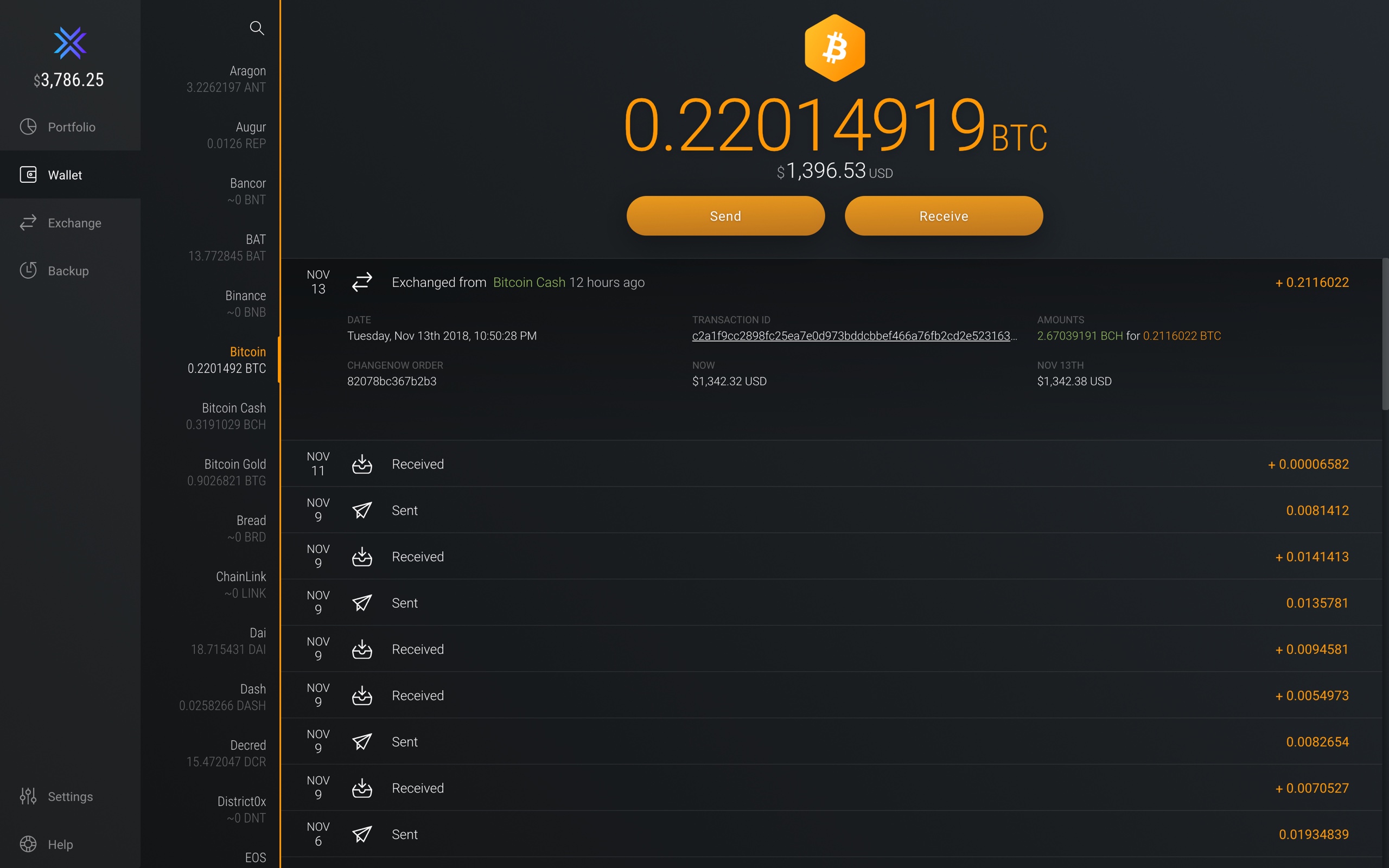 This widely used desktop Ethereum wallet is free to use. It is not open-source, so you must rely on the developers to manage the security and trustworthiness of the code underlying the wallet. This is often a concern for users looking for the best Ethereum wallet. It offers a user interface that is easy to use and allows quick access to your full portfolio of digital coins. Exodus supports nearly 100 cryptocurrencies and has a number of exchange partners, including ShapeShift, allowing people to exchange their Ether from directly within the wallet.
Your private keys do not leave your personal machine, leaving you in control of your funds. However, you must be connected to the internet in order to use Exodus.
MetaMask
MetaMask is one of the best Ethereum wallets for desktop that allows storage of Ether and ERC20 tokens. It has been funded by Consensys and the Ethereum Foundation to support its development. It operates as an addition to your web browser, except that it accesses the Ethereum network rather than the web.
Your private keys are uniquely stored on your personal machine. You can export them at any time using this wallet. Of course, like all other software wallets, it is important to ensure that you are downloading only from the official website.
Coinomi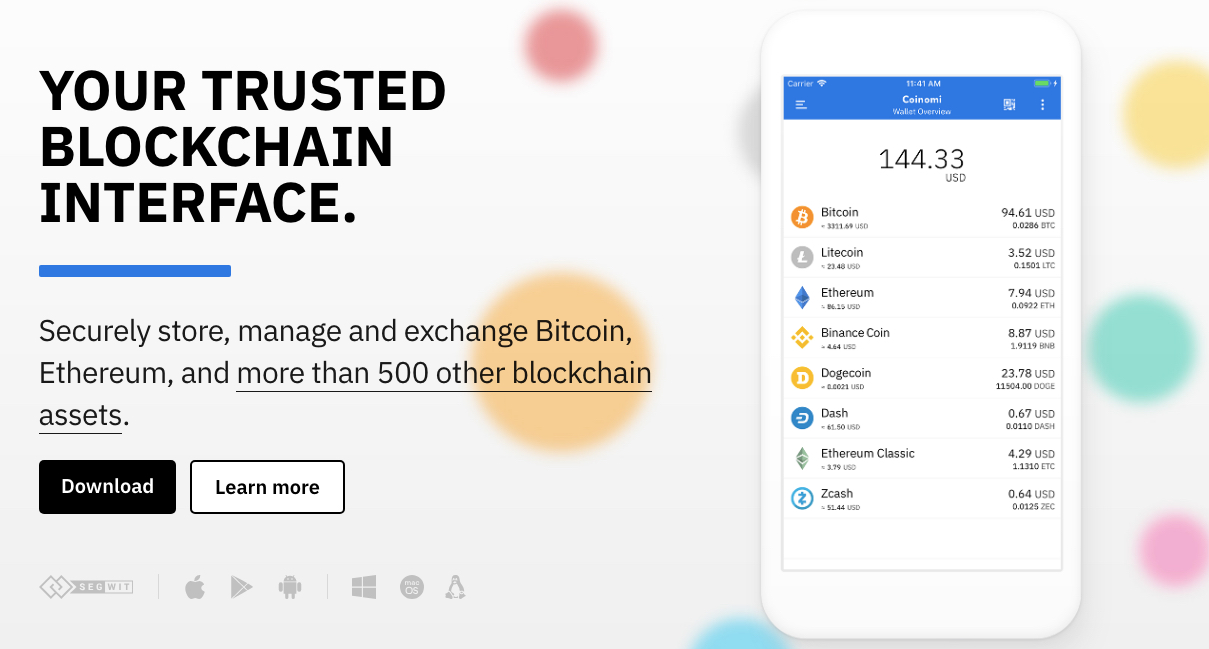 Coinomi is a multi-platform wallet that allows storage of a range of cryptocurrencies. Designed for Android, iOS and desktop, it offers instant exchange between the 278 digital currencies that it supports, including Ethereum, Bitcoin and altcoins. It is designed to be easy to use; setting up the wallet on your smartphone takes only a few minutes.
However, in February 2019, a vulnerability was disclosed in the software; seed keys, which should never be exposed, were transmitted to a Google spell check service. While initially, it was reported that the phrases were sent in plaintext, the company said that they were sent fully encrypted, with only Google capable of decoding the message. Still, seed phrases should never be sent at all to third parties. The vulnerability did not affect mobile versions of the software, and the desktop software was patched to eliminate this request. However, vulnerabilities in software often make users wary, especially when it comes to something as highly secure as a cryptocurrency wallet.
Bread Wallet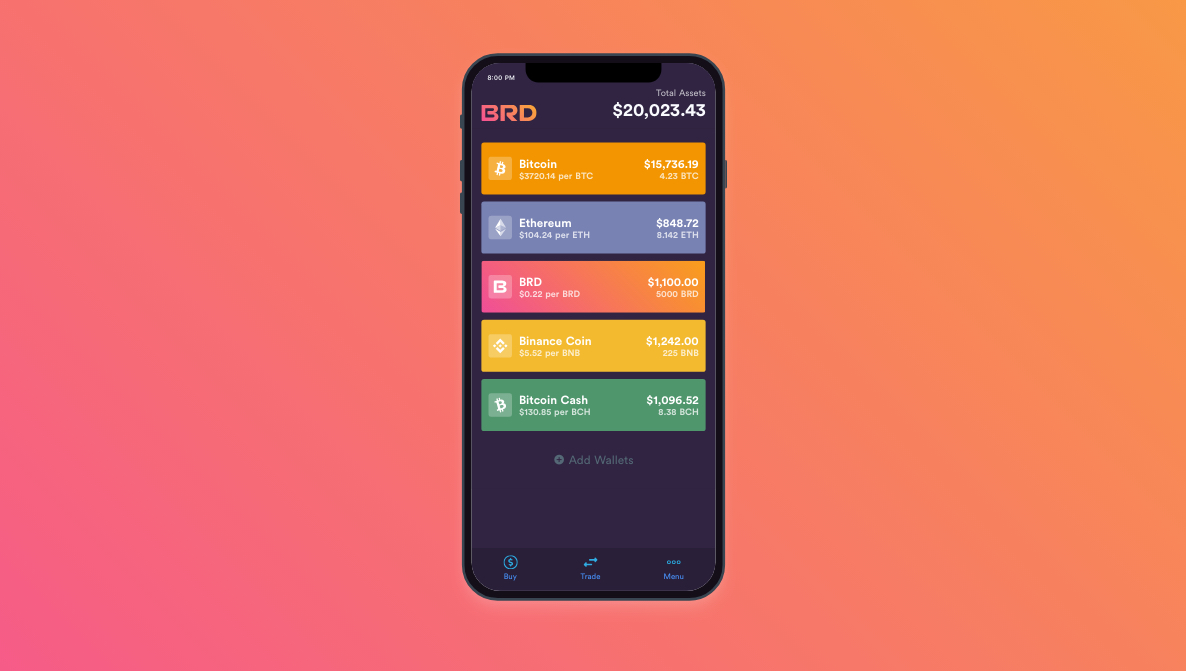 Bread Wallet is designed for mobile users and was initially developed in 2015 by Bread Company in Switzerland. It stores a wide range of cryptocurrencies, including Ethereum, Bitcoin and the developers' own Bread (BRD) coin. It is available only on mobile and can be downloaded for iOS and Android from the App Store and Play Store.
Your private key is retained only on your device and not on Bread's servers, and you use a PIN to access the app and your funds. It is an open-source option, and it can be set up to use TouchID or facial recognition for extra security.
TrustWallet
TrustWallet is a secure software wallet for Ethereum and ERC20 that was recently acquired by Binance, the largest cryptocurrency exchange in the world by trade volume. It is designed for iOS use and is also available on the Play Store for Android devices. It is designed to be easy to use, allowing smartphone access and control over your own private keys on your device.
Paper Wallet
Those who want the security of offline storage but do not want to use a hardware wallet can use a paper wallet. Using MyEtherWallet, you can print out a physical paper wallet. The system creates a private and public key pair that can be printed and secured in a private place. You can also encrypt your private key so that even anyone who finds the document cannot use it without decrypting the key. If you do want to use or trade your coins, you will need to import them into a different type of wallet to perform the trade.
Hard Wallet vs Software Wallet
There are a number of reasons to choose either a hardware wallet or a software wallet. Hard wallets are generally easy to use and highly secure, although you must be careful to retain the wallet device itself, much like a traditional physical wallet with paper fiat currency. They are not free, and you'll need to pay for the wallet. However, you'll have a higher level of security. They are not designed to serve as smart contract wallets and instead are designed for secure cold storage.
On the other hand, software wallets can be highly secure. Desktop software is generally a better option than a web wallet, which can be vulnerable to DNS, phishing or other attacks. While providing less complete security than a hard wallet, software wallets may be the best Ethereum option when looking to execute smart contracts.
What is a Cold Storage Ethereum Wallet?
Cold storage ethereum refers to ether (or the private keys for those funds) that is stored offline.
Ethereum, ERC-20 tokens and other altcoins are more popular than ever, but that popularity has also garnered the attention of hackers.
Unfortunately, cryptocurrencies like ethereum cannot be stored in a traditional bank, so owners of ethereum do not benefit from the safety and insurance that a bank provides.
This means that the owner of ethereum is solely responsible for protecting their own digital funds. This is where cold storage ethereum comes in.
Storing your ethereum offline keeps it safely outside of the reach of hackers. Cold storage options include:
USB drive
Paper wallet or QR code
Physical wallet
Hardware wallet
A common concern for someone using a USB drive, paper wallet, QR code, physical wallet or sound wallet is that if any of these items fall into the wrong hands, the private keys are extremely vulnerable.
Because of this, many people who use cold storage methods like a paper wallet or USB drive store that device in a safe deposit box for added security. However, doing so makes it more difficult for them to access the ether when they need it.
A hardware wallet, on the other hand, is widely considered the safest form of ethereum cold storage, and provides ease of use as well.
A cold wallet provides the most secure option for storing cryptocurrency that still provides you easy, frequent access. Some wallets only allow storage of a few cryptocurrencies, but a select few can store a plethora. If you need to learn how to cold store Ethereum, read on for a short primer on what to look for in Ethereum wallet cold storage.
A high-quality cold hardware wallet provides both security and simplicity. It will have the following features:
 private keys and private key controls,
 an easy to use user interface,
 an active development community,
 a backup system and restoration capabilities,
 multiple operating systems compatibility.
Do All Ethereum Wallets Support ERC20 Tokens?
No, not all ethereum wallets support ERC20 tokens.  All of the best Ethereum wallets support the storage of Ether (ETH) as well as other ERC20 tokens, so you can store all of your Ethereum-associated currency on the wallet of your choice. Many hardware wallets can connect to MyEtherWallet making it very easy to store any ERC20 tokens.
Best Ethereum Wallet for ICOs
The best Ethereum wallet for ICOs depends on how you manage your participation and what blockchain the ICO tokens will live on. If you want to quickly access your ETH to purchase other coins, a wallet that allows quick access to trading platforms may be a good idea. In addition, one of the software wallets that allows storage of hundreds of cryptocurrencies may be the best wallet for Ethereum for people who are regularly delving into new coin options. It is easiest to store Ethereum ICO tokens on wallets using MyEtherWallet or MetaMask.
Final Thoughts on the Best Ethereum Wallets
When deciding on the best Ethereum wallet, you can look at your own usage and needs to determine the optimal choice. This can include thinking about what type of storage you need, how you plan to use your coins and how frequently you buy, sell or trade Ethereum. There are many strong, secure options that allow you to control your private keys and keep your Ether and ERC20 tokens safe, secure and accessible. The best wallet for Ethereum storage is one that meets your personalized needs and also has a built-in high level of security and control.