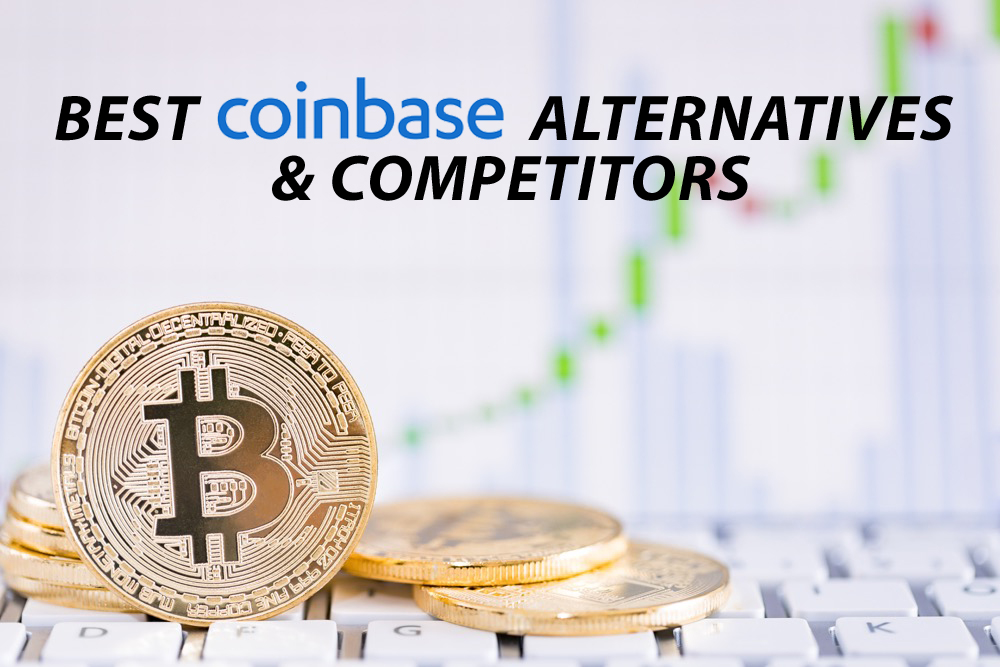 When many people think of options to buy and sell bitcoin and other cryptocurrencies, they may think of Coinbase but there are Coinbase alternatives in the ever growing market. This platform has over 11 million users with 38 million currency markets, and it has a reputation for being trustworthy.
Still, many cryptocurrency traders are looking at other exchanges for alternatives to Coinbase. The US-based exchange only serves 32 countries, so many people are left out of the opportunity. Others are looking for a wider selection of digital currencies, lower fees or other advantages that may be found at Coinbase competitors.
Best Coinbase Alternatives
Here are some of the top Coinbase alternatives available today. Read on to find out more about why these options could work for you.
Binance has become the biggest exchange for cryptocurrency in the world when measured by trading volume. It offers a platform for trading over 100 different digital currencies. Since January 2019, it has enabled purchases of bitcoin, ethereum, litecoin and XRP over debit and credit cards as well as bank transfers. Binance is available in all US states except New York, Connecticut, Hawaii, Georgia, New Mexico and Washington.
Fees range from 0.015 percent to 0.1 percent, depending on the size of transactions and whether the user maintains a balance in a Binance account.
Why is Binance a Good Alternative to Coinbase?
For people who want to trade large amounts of cryptocurrency, Binance's low trading fees can make it an outstanding alternative to Coinbase. In addition, the wide range of digital assets available may be appealing to users who want to access a diverse portfolio and many types of trades. Binance is one of the Coinbase competitors offering a growing range of services, although some options are only available from USD and EUR bank accounts.
Kraken, operating since 2011, is one of the most popular and secure Coinbase alternatives. It offers support for four fiat currencies and over 20 cryptocurrencies, as well as a Bitcoin margin trading market that offers people the opportunity to open their positions with leverage.
Fees vary, depending on the service users are looking for. For people selling cryptocurrencies, fees range from 0.0 to 0.16 percent, while they range from 0.10 to 0.26 percent for bidders.
Why is Kraken a Good Alternative to Coinbase?
Fees at Kraken are significantly lower than at Coinbase, so there is a stronger opportunity to save when trading. This can be particularly important if you are trading larger amounts of cryptocurrencies. In addition, Kraken is one of the apps like Coinbase that supports a larger number of currencies. It also hosts JPY and CAD as supported fiat currencies and offers a much wider range of available digital assets for trading.
Changelly, founded in 2013, is one of the Coinbase alternatives designed to be globally available while protecting users' privacy. It's easy to set up a Changelly account and buy and sell cryptocurrencies from the start. Unlike other exchanges, Changelly lets users complete most of their purchases without identity checks or other KYC procedures.
Fees at Changelly are 0.5 percent for every trade. However, credit card fees can be significantly higher. The anonymity provided by the service is a strong selling point.
Why is Changelly a Good Alternative to Coinbase?
For those looking for alternatives to Coinbase that provide a higher level of anonymity and privacy, Changelly can be an excellent option. It works well for people who want to trade quickly without waiting for lengthy verification procedures. It also offers dozens of cryptocurrencies for people looking for diverse digital assets.
Gemini is a fast-growing bitcoin exchange based in the United States. While it serves a limited number of countries, this includes some that Coinbase does not, including South Korea and Singapore. It serves all of the states in the United States except for Oregon and Arizona.
You can exchange USD for BTC and ETH at Gemini and there are no deposit or withdrawal fees for users making bank transfers for up to 30 withdrawals each month. Fees start at 0.25 percent for both buyers and sellers (takers and makers) on its cryptocurrency market. As a fully licensed US financial institution, Gemini is very secure. At the same time, it also requires a significant amount of personal data from its users.
Why is Gemini a Good Alternative to Coinbase?
Gemini offers an easy-to-use interface as well as low fees for a variety of services. For people for whom security is paramount, its FDIC-insured deposits may be an excellent choice, as it is fully compliant with banking standards.
Coinmama
Coinmama has been active since 2013 and offers an easy-to-use interface that is often similar to Coinbase. It requires users to go through a verification process, but it is quick to complete. KYC requirements can typically be completed within one hour. It also makes it particularly easy to buy popular cryptocurrencies with credit and debit cards.
It does not focus on trading opportunities or diverse online wallets, but instead on making it simple to buy bitcoin, ethereum and Ripple. Users in over 180 countries can make use of Coinmama.
Why is Coinmama a Good Alternative to Coinbase?
Coinmama is available in almost 150 more countries than Coinbase, making it one of the strongest global alternatives to Coinbase. In addition, it can be much faster to complete KYC and verification processes, so you won't have to wait long to start buying cryptocurrencies.
LocalBitcoins
LocalBitcoins was launched in 2012 as a peer-to-peer cryptocurrency exchange designed to allow people to trade BTC for cash. The site is available in 248 countries and offers an escrow system that allows individual buyers and sellers to make deals with one another. On-the-ground users buy and sell bitcoin on this platform in over 15,000 cities. You can buy with cash, send PayPal or a SEPA transfer, depending on what your seller requests.
Why is LocalBitcoins a Good Alternative to Coinbase?
For people looking to save when buying or selling bitcoin, LocalBitcoins can be one of the best Coinbase alternatives. Sellers are charged a 1 percent flat fee on all completed transactions, and buyers are not charged. Some payment methods may add their own markups as well, which can add from 3 to 10 percent to the final sale price. It is a particularly strong choice as one of the apps like Coinbase for smaller trades. For people who value privacy and anonymity, LocalBitcoins can be an excellent choice, and it allows people to trade bitcoin in a decentralized manner.
CashApp
CashApp, offered by payment processor Square, is one of the most popular apps like Coinbase. Named the most-downloaded financial app on Google Play and the iOS App Store, this mobile option allows people to buy and sell bitcoin, unlike other payment apps such as PayPal and Venmo. CashApp can be easily synced to a bank account and lets you instantly buy, sell and use bitcoin.
For people in the United States using USD, CashApp is perhaps the easiest of the Coinbase alternatives. It can also pair with its own debit card that can be used in stores. You can also sell bitcoin to other CashApp users on the system.
Why is CashApp a Good Alternative to Coinbase?
CashApp is designed to be very easy to use on mobile. As a major, widely used payment processing app, many people who were unfamiliar with cryptocurrency make use of this system. It can be a particularly good option for people who are new to digital assets, even if they later want to move into some of the more specialized and diversified exchanges.
Common Problems with Coinbase
Customers have a number of complaints about Coinbase. Some people do not care for the higher fees, while others have complaints about the extensive and, at times, slow verification and KYC system. Despite the fact that cryptocurrency is meant to be a decentralized system separate from fiat currency, Coinbase is available in only 32 countries, limiting its reach significantly.
While many people start out on Coinbase, even those who are eligible for the service often become burned out on two major issues: high fees and poor customer service. Others who want to access a more diverse portfolio of digital options will also want to look elsewhere.
What to Look For When Choosing a Coinbase Competitor
There are a number of factors to consider when choosing from one of the Coinbase competitors available. While you may be looking for an alternative, some of the sites available offer worse options, security and service than Coinbase.
It can be important to avoid exchanges with a history of security breaches. You may be unable to recover your funds if there is another breach. Some people will want to look for high levels of security through registration and KYC requirements, while others will look for higher levels of anonymity and privacy with lower access requirements.
Fee schedules can also be an important factor, especially for users executing trades for large amounts of cryptocurrency. Fees can add up quickly, so it is good to understand the schedule before getting started.
Final Thoughts on Coinbase Alternatives
As you expand your holdings in the cryptocurrency market, you can explore more diverse options and engage in more complex and interesting trades. On the other hand, you may be looking for a more decentralized way to buy and sell a favored currency like bitcoin. By reviewing the options available, you can find the alternative to Coinbase that is best suited to help you achieve your goals in the crypto market.