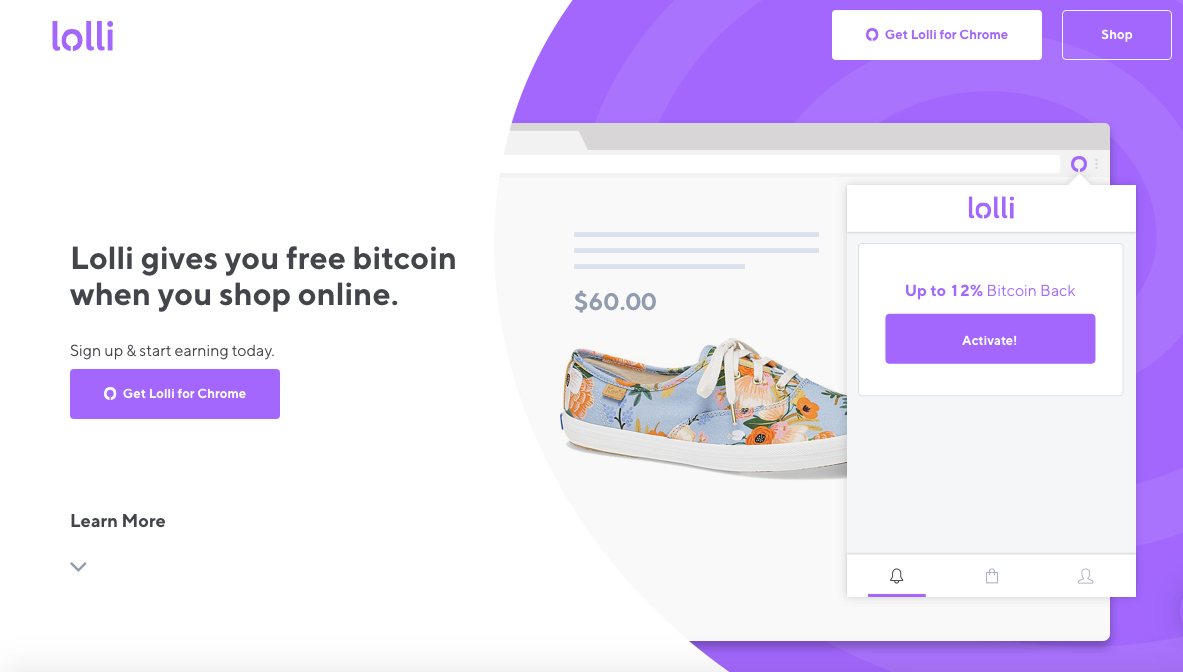 Everywhere you turn today it seems a business opened a customer loyalty program. Many takes on the basic idea exist like MyPoints, eBates and DealSpotr. They provide points in exchange for cash or straight cash based on the percentage earned from purchases at stores affiliated with the program. Now, Lolli brings a new twist to the customer loyalty industry, providing Bitcoin to members who purchase from its affiliated stores.

What is Lolli?
So, "What is Lolli?," you ask. It's the latest in rewards platforms, created by Alex Adelman and Matt Senter. Rather than simply paying cashback, it pays the consumer in cryptocurrency. Currently, it uses Bitcoin as its return for the consumer shopping through its partners. Similar to the eBates model, it returns a percentage of the consumer's expenditure to them as Bitcoin.
How does Lolli work?
You do not have to already own Bitcoin or a cryptocurrency wallet to use Lolli. So, how does Lolli work? Lolli combines its loyalty rewards program with its own Bitcoin wallet. When you shop at a partner store, Lolli gets paid a commission. The site shares part of the commission with you in the form of Bitcoin which it deposits into your Lolli wallet.
While the site encourages you to "buy and hold," or HODL, it also makes it quick and easy to cash out. The minimum cash out is the equivalent of USD $15. Obviously, that amounts to a tiny amount of Bitcoin. So tiny, in fact, the site measures payments in satoshis, the smallest increment of Bitcoin.
Lolli has not worked out how to report these earnings yet. Consult your CPA at tax time. Acquiring Bitcoin previously required an extensive Know Your Customer (KYC) check at a registered trading site. This enables the Internal Revenue Service and its colleagues in other countries to easily track purchases which, though in practice appear similar to stock trades, the IRS considers "other property." So, at tax time, you may get a 1099 from Lolli or you may not. Your CPA will be able to tell you how to proceed to report the funds that have passed through your Lolli wallet.
How to use Lolli
Learning how to use Lolli proves really easy. You complete a simple sign up form that consists of your name, e-mail address and a confirmation typing of your e-mail address. Lolli sends you two e-mails – one to welcome you and the second with a link to confirm your e-mail address.
You can either download and install its browser extension – available for Windows, iOS and Android – or shop from its website. It encourages desktop users to use the browser extension. You'll need Chrome or Safari to install it. The extension ensures you never miss a store that Lolli has partnered with for commissions. It alerts you when you reach one of its partners. This helps you earn more Bitcoin. On a mobile device, you can simply click a store link on the Lolli website to generate the tracking code that guarantees you'll get paid for shopping.
The Lolli Bitcoin Wallet
Lolli created its own wallet. Your Lolli Bitcoin accrues in your wallet on the Lolli site. Since hot wallets aren't safe for long-term holding, Lolli encourages frequents transfers. Its $15 payout minimum makes it easy to qualify for a transfer. You can cash out to USD for a $0.25 fee. A Bitcoin transfer incurs only the current Bitcoin miners' fee.
A few days after you make a purchase with one of its partners, Lolli sends you an email with a rewards estimate. The company waits to verify the purchase with its retail partner. This waiting period for confirmation is a common feature of loyalty programs which MyPoints members will find familiar.
The Bitcoin reward remains estimated during the partner's returns period, normally between 30 to 90 days following the purchase. Once the returns period for that partner has passed, the full Bitcoin reward gets deposited to the wallet. Once the payout minimum is reached, the Bitcoin can be withdrawn or transferred. During the estimate period, the wallet's balance may fluctuate, but that will stop once the purchase confirms. The fluctuation is caused by the daily rise and fall of Bitcoin's price. Lolli uses the Bitcoin value on the data of confirmation.
Most Popular Places to Shop on Lolli
Like other rewards programs, Lolli partners with retail's big names like Macy's and Walmart. Currently, it partners with about 500 retailers and the number of partnered Lolli stores grows monthly. It also partners with the coupon site Groupon for up to 9 percent back on purchases. Frequent travelers can earn 3.5 percent back on Hilton stays and Hotwire bookings. The earnings return increases to 4.5 percent for Marriott stays. You'll earn the biggest chunk of return payments on shopping purchases at partnered Lolli stores such as:
Banana Republic - get up to 3.5 percent back.
Barnes & Noble - get up to 3.5 percent back.
Barneys New York - get up to 5 percent back.
Bloomingdale's - get up to 4.5 percent back.
Bonobos - get up to 7 percent back.
Gap - get up to 3.5 percent back.
GoDaddy - get up to 9 percent back.
Harry's - get up to 27 percent back.
Macy's - get up to 4.5 percent back.
Ulta - get up to 3.5 percent back.
Walmart – get up to 3.5 percent back.
How to Get Extra Rewards by Using Lolli and Getting Free Bitcoin
Lolli links your purchase to your account through the extension or Lolli site link to the retailer, plus your e-mail address. Your e-mail address on your Lolli account must match the e-mail you give the retailer. That means that you cannot use a different earning link for the retailer, such as those for MyPoints, in conjunction with the Lolli link. You must pick which loyalty program you want to use.
You can earn rewards from Lolli while earn cash back with your credit card, if it offers the feature. Simply make the purchase through the Lolli site using its link to the retailer, then use the rewards credit card to make the purchase. In this way, you will earn on both programs.
You may still qualify for a manufacturer's rebate that requires a copy of the receipt of purchase. These do not link to an e-mail address nor do they require you to use a link. Simply fill out the rebate form and mail or upload it and a copy of your receipt. That provides a third manner of earning money tied to the same purchase.
Final Thoughts
Lolli has not existed long enough to have earned a reputation on its payouts yet. Use it at your own risk but from initial reports, Lolli has worked quite well.

The safety of the platform remains untested, but the idea is novel and timely. There is also very little risk because you get paid free Bitcoin just to shop as you normally would.  You certainly won't lose much by trying it out for a few test purchases. If it turns out to be one of the better loyalty programs, you'll have a spot to earn free Bitcoin from regularly. If you belong to other loyalty programs, you may want to alternate which you purchase through, so you continue to earn rewards at both.