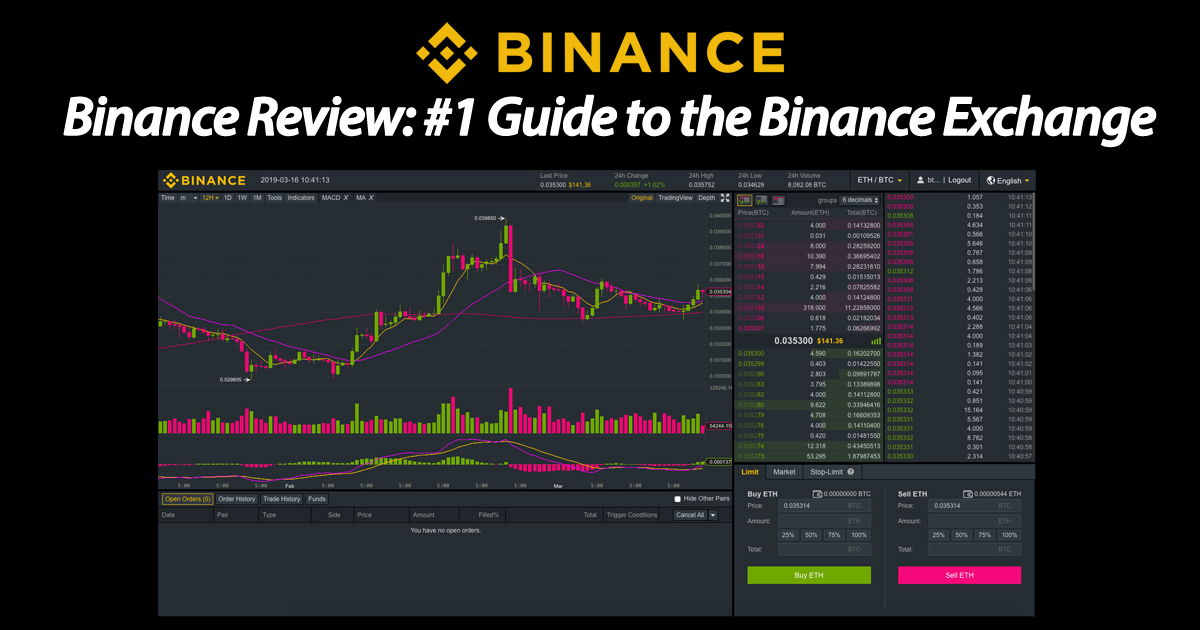 The Definitive Binance Review
This Binance review explains what it is, how to use the Binance exchange, and why you may want to use it over Coinbase or other exchanges. If you're new to Binance or cryptocurrency read this definitive guide to Binance first to learn the ins and outs of trading there. A quick Binance review shows why it is one of the top exchanges.
What is Binance?
Launched in 2017, Binance has become one of the largest cryptocurrency exchanges. Known for its low trading fees, numerous currencies supported, easy to use interface and customer service, it quickly rose in popularity.
Where is Binance Located?
Binance locates its main offices in Malta. For security reasons, Binance keeps their server locations secret but we do know they have servers in Hong Kong, Taiwan, Japan, and Korea.
Is Binance Safe? Or is Binance a Scam?
Binance is not a scam. It has operated successfully for two years in China, one of the toughest country's on blockchain technology and cryptocurrencies. It conducted its own initial coin offering (ICO) in 2017 and amassed its first 20,000 users during that launch. Its number of users has grown significantly since then. It now serves most of the world and recently introduced fiat exchanges, too, so there is no Binance scam. It is the real deal.
Overview of the Binance Exchange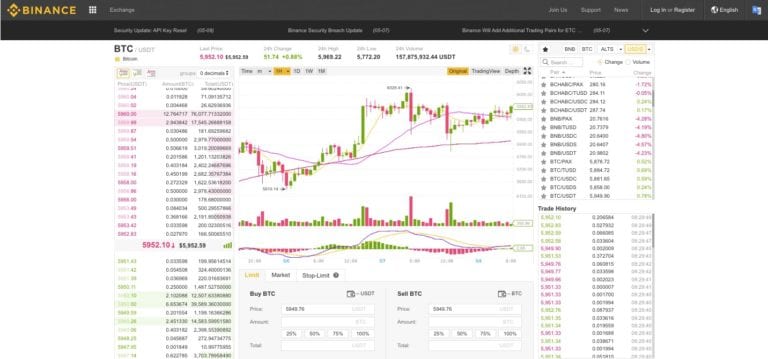 Binance really offers two trading platforms in one. It provides a Basic platform and an Advanced platform. The basic version, shown above, lets you perform simple trades while the advanced version gives experienced traders detailed technical analysis and supports advanced trade types. Even its basic platform though may seem daunting, hence this user guide. Binance was developed for serious traders, not casual investors.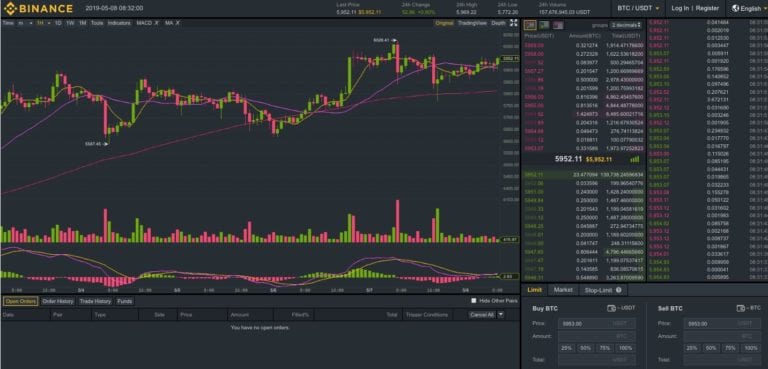 The platform's main screen features financial charts with graphs, the order books, a candlestick chart and trade histories, plus a depth chart of your orders. Its advanced platform includes Fibonacci lines and moving averages.
How to Use Binance
While the exchange offers a lot of features and may seem overwhelming, it proves simple to use as this Binance review shows.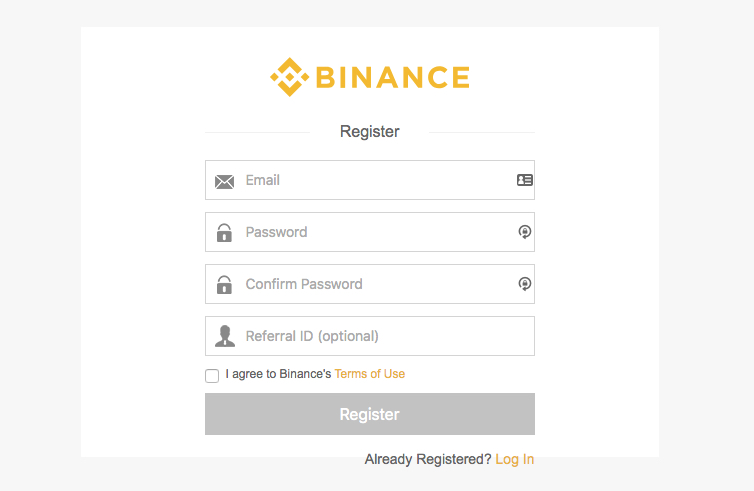 Register Your Account
Like all the other platforms, you must register and fund the account first. Follow these steps to do that:
Click the register or login link at the top right of the screen.
Choose register, then enter your email, password and password confirmation.
Check the box indicating that you accept their Terms of Use.
Click Register, then solve the verification puzzle.
Binance will send an email verification to the email you provided.
Click the verification email link and wait for the Binance screen that confirms your account.
Fund Your Account
You're ready to trade after you fund your account. That, too, is a pretty simple process. You will need cryptocurrency to fund your account. Binance deals with crypto-to-crypto trades only, so purchase a supported cryptocurrency elsewhere or transfer it from your personal hardware wallet.
Click the Deposits link found under the Funds tab.
Choose the cryptocurrency you'll use to fund your account on the Deposits page.
Use the public wallet address Binance provides to submit the funds.
Pro Tip: Use Bitcoin or Ethereum to fund your account since they have the greatest diversity of trading pairs. You'll begin with more trading flexibility.
Trading Options
You'll find that Binance offers most of the same trading options as a FOREX or stock exchange. On the platform the trade types include limit, market and stop-limit orders. Binance previously stated it will add additional trade types.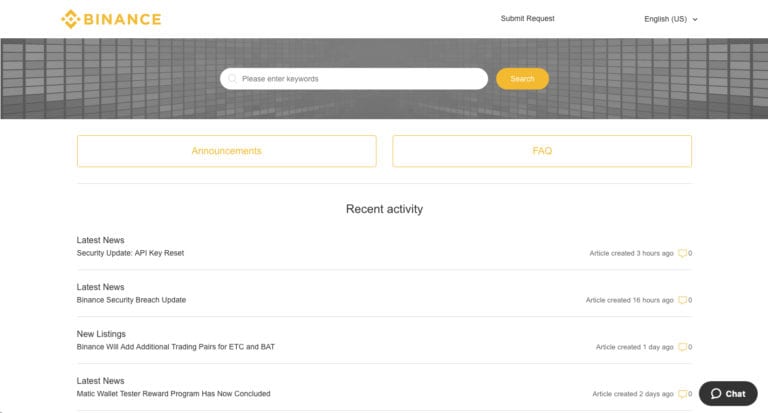 Customer Service
In its early days, Binance earned a bad rap for poor customer support as reading an old Binance review may reflect. Since that time, it significantly improved things. Your first point of contact for questions should be its Frequently Asked Questions (FAQs). Its updated FAQs cover advanced topics like preventing phishing attacks. The Binance exchange and its support website offer multiple language support including Chinese, English, Italian and Spanish.
You can also submit a support ticket via the online form on its support site. The platform will have a customer service representative contact you by email. No phone support or live chat support is offered.
Supported Cryptocurrencies
Binance boasts one of the largest selections of cryptocurrencies to trade. Binance's selection beats other top exchanges such as Bittrex and Changelly, but to each exchange has it's benefits.  You can choose from more than 110 possibilities. It offers pairings with Binance, Bitcoin, Ethereum, Tether and more are surely on the way. Here are just a few…
How to Deposit on Binance
Making further deposits on Binance essentially copies the procedure used to make the initial funding deposit. You must deposit cryptocurrency. Depending on your account's verification level, your deposit amounted will be limited or unlimited. Verification also affects your ability to withdraw funds, so verify your account fully before doing any trades. Otherwise, you won't be able to withdraw your funds.
A level one account requires no verification, but only lets you withdraw two BTC per day. For a level two account, you can withdraw up to 100 BTC per day. Higher withdrawal levels can be negotiated by contacting the platform directly. You can only deposit crypto but there's no limit on the amount that you can deposit. There are no Binance fees on any deposits.
Verification can take time. It depends on how swamped the site support staff are. You may have up to a four to five day wait. Plan ahead and do not buy at the Binance exchange until you are verified so you will be able to withdraw, as well.
Click the Deposits link found under the Funds tab.
Choose the cryptocurrency you'll use to fund your account on the Deposits page.
Use the public wallet address Binance provides to submit the funds.
How to Buy on Binance
Once you're set up, it's pretty easy to buy on Binance. Follow these simple steps:
Select the tab for the cryptocurrency you want to trade in: BTC, ETH, BNB or USDT.
From the dropdown list, pick the currency you want to buy. You can also search using the search box provided.
Place a buy order by entering the price you offer or clicking the left-hand column number.
Enter the currency amount you want or click the button for "25%," "50%," "75%," or "100%" which institutes a purchase based on the amount of cryptocurrency currently in your wallet.
Click to complete the purchase. The order will appear under "Open Orders" until filled.
How to Withdraw from Binance
It's easy to withdraw from Binance. You'll select the token from the drop down box, fill in the amount, and the withdrawal address and click the withdraw button to submit. Binance charges a small withdrawal fee for each currency.
Pro Tip: When transferring from Binance to your wallet, test out a few small transfers to be sure the address is correct and everything is working as it should.  This will prevent you from losing any of your crypto.  You can also whitelist addresses within Binance to make tranferring your crypto safer, faster, and easier.
Binance Security
In this Binance review, we'll consider both the exchange's security features and the
times in the past their security has been thwarted. Binance, like some other exchanges, has experienced problems with being hacked. They've shored up their security measures since then, even adding information to their FAQ to help customers protect themselves from phishing attacks.
The Binance exchange suffered a phishing and API attack in 2018. The hacker illicitly exchanged users' cryptocurrency for Viacoin (VIA). When the VIA price rose, the hackers sold their VIA to profit. Binance froze their accounts when the activity was discovered, cutting off their ability to withdraw funds.
Hackers also took advantage of a Syscoin (SYS) wallet vulnerability to sell a single SYS for 96 BTC. When they withdrew the funds from the sale, Binance halted withdrawals. As a result, Binance created the Secure Asset Fund for Users (SAFU).
SAFU, the Secure Asset Fund for Users is an emergency insurance fund. On the 3rd of July, 2018, Binance announced the Secure Asset Fund for Users.
"To protect the future interests of all users, Binance will create a Secure Asset Fund for Users (SAFU). Starting from 2018/07/14, we will allocate 10% of all trading fees received into SAFU to offer protection to our users and their funds in extreme cases. This fund will be stored in a separate cold wallet."
Binance stores the majority of the Binance exchange funds in a cold wallet. It also stores private keys in cold storage. This makes Binance safe since it does not hold currencies online.
The Binance exchange tries to keep the exact location of its servers secret. This protects them from digital and physical breaches. While it did announce when it set up a new server space in South Korea, it does not list the actual location address.
On its website, the Binance exchange use 256-bit SSL certificates to ensure secure communications. This helps protect from "man in the middle" attacks and helps identify a phishing website.
What is Binance Coin (BNB)?
Binance Coin or BNB is the exchange's own cryptocurrency issued when it conducted its ICO. Exchange members can use the token to pay fees. It is also one of the base currencies used on their Decentralized Exchange (DEX). The Binance exchange has plans to buy back their native currency until it owns at least 50 percent of it.
Binance Exchange Trading Fees
In this section of the Binance review, we examine the exchange's trading fees. The exchange charges low trade fees and withdrawal fees. Casual traders with a less than 100 BTC 30-day volume pay a flat 0.1 percent fee on each trade. Payments made in the BNB token net the user a 25 percent discount, making the trading fee 0.075 percent. High-volume trader with a trade volume of at least 100 BTC 30-day volume with at least 50 in its native currency pay on a sliding scale based on trading volume, maker/taker status and if they pay in the exchange's native currency. The fees scale ranges from 0.015% to 0.100%. Fees for withdrawals vary by cryptocurrency.
Binance App Review
Binance offers mobile apps for iOS and Android and your desktop computer. These fully featured apps enable you to trade on mobile devices. The Binance app provides strong security including two factor authentication and thumbprint identification.
Some users have reported problems with its thumbprint recognition system. While they can set it up correctly, the app "forgets" the information after the next sign in. According to recent reviews, this glaring error still needs to get fixed. Other errors were also reported recently like the runaway push notifications and log-in timeouts. Hopefully, they'll address this by the time we write our Binance review update.
The New Binance DEX
No Binance review would be complete without a look at its new and developing features. The brokerage recently introduced the Binance DEX platform that lets users trade cryptocurrency peer-to-peer (P2P). Its matching feature helps speed along trades. It uses a high-speed blockchain engine called "Tendermint Core" that enables one-second block times.
IEOs on Binance Launchpad
Binance Launchpad hosts initial exchange offerings (IEO), a method of crowdfunding that enables a project to fundraise through a digital assets exchange. In an IEO, investors deposit funds to the Binance exchange wallet, not the project wallet. The BitTorrent Token launched on January 28, 2019, raising more than $7.12 million in 20 minutes.
Binance Jersey
On January 16, 2019, Binance launched its fiat to cryptocurrency exchange, Binance Jersey. The separate trading platform lets traders use fiat currencies, including the euro and pound sterling. The Jersey project targets the European market.
"Expanding the cryptocurrency exchange markets with fiat currencies in the European region is opening new economic opportunities for Europeans as well as freedom from looming Brexit uncertainty where the pound and euro are also in concern," said Binance CFO Wei Zhou. "Through Binance Jersey, we want to help bridge the crypto-fiat channel for Europe and the UK as part of our global expansion to support broader cryptocurrency adoption."
The fiat to crypto exchange will offer four trading pairs to start:
BTC / EUR
BTC / GBP
ETH / EUR
ETH / GBP
The exchange supports a number of jurisdictions, including Argentina, Armenia, Australia, Austria, Azerbaijan, Belgium, Brazil, Bulgaria, Canada, Chile, Croatia, Cyprus, Czech, Denmark, Estonia, Eswatini (Swaziland), Finland, France, Germany, Gibraltar, Greece, Hong Kong, Hungary, Iceland, Ireland, Israel, Italy, Jamaica, Japan, Jersey, Latvia, Liechtenstein, Lithuania, Luxembourg, Macau, Malta, Mauritius, Mexico, Monaco, Netherlands, New Zealand, Norway, Peru, Poland, Portugal, Romania, Singapore, Slovakia, Slovenia, South Africa, South Korea, Spain, Sweden, Switzerland, Turkey, United Arab Emirates (UAE), United Kingdom (UK) and Republic of Uruguay.
Jersey does require additional verification. Anybody wanting to trade in fiat currencies must complete the Know Your Customer (KYC) procedures by submitting their identification documents, including scans of their passport and driver's license.
Once you pass the KYC procedure, you can fund your account in fiat directly from your bank account using the Deposit screen. Other funding options include BTC or Ethereum. You can also withdraw funds in fiat currency.
Jersey and the original Binance work together meaning you can cash out your cryptocurrency purchases in fiat. Investors who have used the original product need only complete the Jersey KYC and registration to be able to cash out their cryptocurrencies from the original Binance in fiat.
Binance Lite Australia
On March 20, 2019, Binance launched Binance Lite Australia, a fiat to cryptocurrency exchange serving only Australia. The new Lite product lets traders purchase Bitcoin with Australian Dollars (AUD). Currently, Bitcoin is the only token supported on Lite, but Binance plans to add additional currencies later.
Like the new Jersey, Lite requires account verification. Unlike Jersey, it is operated by InvestbyBit, a subsidiary of Binance. After verification, traders can place online orders and deposit cash via a newsagent. The Lite brokerage makes Bitcoin readily accessible throughout Australia. Combined with the original Binance, it enables Australia to use a single company to purchase cryptocurrencies using fiat and to exchange cryptocurrency purchases back to fiat.
Binance's Trust Wallet
Binance acquired Trust Wallet, the Ethereum and ERC20 mobile wallet. It also acquired the decentralized application browser Trust Wallet designed.
The wallet enables Binance customers to securely store more than 20,000 Ethereum-based tokens in an anonymous, decentralized, open source application. The original Trust Wallet launched in 2017. Binance kept the original development team of the wallet. They will continue to develop the wallet while also integrating it into the services offered by Binance like its DEX.
Binance Contests
Binance regularly holds competitions and giveaways. In its Waves promotion, it gave away 20,000 Waves to its traders based on their number of trades using the currency. Its Tron (TRX) competition awarded traders a Maserati car, Mercedes Benz car, a Macbook Pro or an iPhone X based on their Tron trade volume.
Final Thoughts on Our Review of the Binance Exchange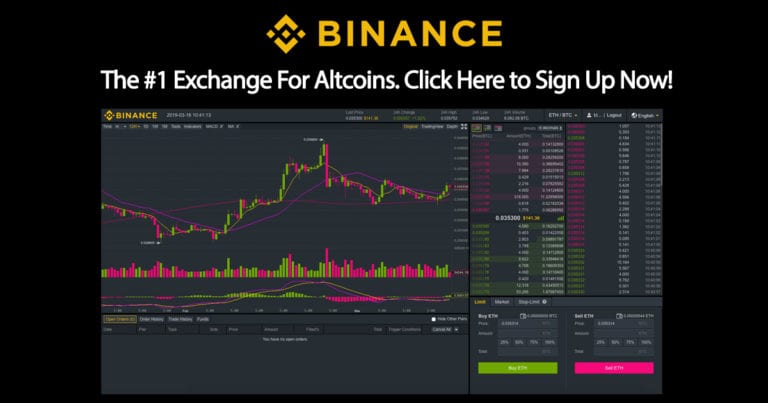 Far from a Binance scam, Binance ranks as one of the top exchanges online for cryptocurrency. If you're just getting started trading cryptocurrency, learn the ropes on a different exchange. Binance is really geared toward experienced traders. Even its basic version exhibits a steep learning curve.
Most people have traded at other locations before using Binance. In a way, you must have traded at least once elsewhere since you have to own cryptocurrency to use the Binance exchange. Binance provides all the features of a FOREX or stock exchange, less the fiat and stocks. Its numerous graphs, charts and data feeds may overwhelm the new trader.
It is a completist's exchange as this Binance review shows. It continually adds new features like the IEO platform, Trust Wallet, Jersey and Lite. Its massive offerings of more than 100 cryptocurrencies mean you can find relatively any token you like. Once you become comfortable as a trader, move to Binance.